We're back at the Eagles Club during July!
SHIMMER and RISE will present a weekend of live events in the Chicago area at the
Berwyn Eagles Club
in
Berwyn, IL
during the weekend of
July 7th through July 9th
. Scroll down to order tickets for the July SHIMMER events via PayPal. If you cannot order online, E-mail
shimmernews@yahoo.com
for mail order instructions.
First and second row reserved seating areas are, as their names imply, reserved, numbered seats. The general admission seating area (third row and back) does not have numbered chairs. General admission seating is available on a first come, first served basis.
Those purchasing first row reserved or second row reserved seats can put in a general seating area request, if you wish. Simply E-mail
shimmernews@yahoo.com
at the same time you purchase your tickets, and let us know which section you would ideally like to be seated in. We'll do our best to position you accordingly, based on the seats that are still available.
JULY 2017 LIVE EVENT SCHEDULE

RISE 3: MEDIC - Developing Tomorrow's Women Athletes
Friday, July 7, 2017 at 8PM - Eagles Club (6309 26th Street) in Berwyn, IL
Tickets available at WrestlingPipeline.com
SHIMMER 92 & 93
Saturday, July 8, 2017 at 2PM - Eagles Club (6309 26th Street) in Berwyn, IL
Scroll down to purchase tickets
SHIMMER 94 & 95
Sunday, July 9, 2017 at 12PM - Eagles Club (6309 26th Street) in Berwyn, IL
Scroll down to purchase tickets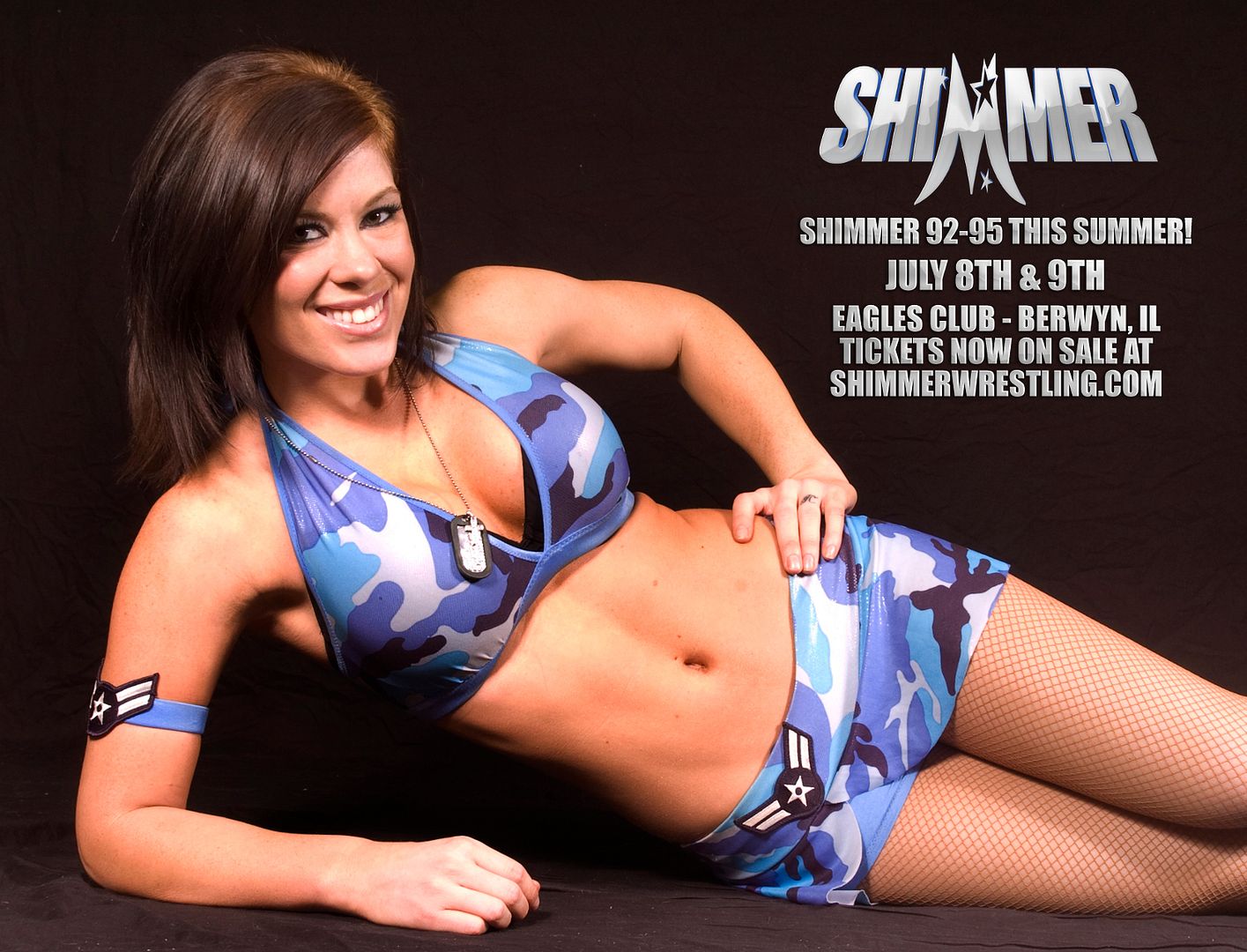 ---
SAT. JULY 8 & SUN. JULY 9 (SHIMMER 92-95) TICKET PACKAGES
SHIMMER 92-95 (July 8 & 9) First Row Reserved Ticket Package $220
SHIMMER 92-95 (July 8 & 9) Second Row Reserved Ticket Package $120
SHIMMER 92-95 (July 8 & 9) General Admission Ticket Package $60
---
SATURDAY, JULY 8 (SHIMMER 92 & 93) TICKETS
SHIMMER 92 & 93 (Saturday, July 8) First Row Reserved Ticket $110
SHIMMER 92 & 93 (Saturday, July 8) Second Row Reserved Ticket $60
SHIMMER 92 & 93 (Saturday, July 8) General Admission Ticket $30
---
SUNDAY, JULY 9 (SHIMMER 94 & 95) TICKETS
SHIMMER 94 & 95 (Sunday, July 9) First Row Reserved Ticket $110
SHIMMER 94 & 95 (Sunday, July 9) Second Row Reserved Ticket $60
SHIMMER 94 & 95 (Sunday, July 9) General Admission Ticket $30
---
---